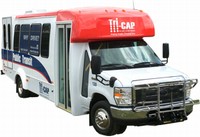 Tri-Cap Bus Service Hours of Service: 7:30 am - 4:00 pm Monday - Friday
To schedule a pick-up, please call 1-888-765-5597. Tokens are available at the Melrose City Center, CentraCare Clinic, Magnifi Financial, Freeport State Bank and Coborn's. Rides to the CentraCare campus are free of charge.
Rural tokens are available at the CentraCare Clinic. These are tokens that will take you to Sauk Centre.
Website: Tri-Cap Transportation